【3 Automatic Suck & 10 Vibration Modes】This masturbator has a powerful motor, and it uses vacuum pump suction technology to achieve 3 different automatic suction frequencies. Make sure you experience the manual one-button mode. Press and hold the button, it will keep sucking your penis. Switch to an intensity that makes you comfortable and experience the deep throat sensation. Plus 10 kinds of vibration settings to give you the real oral sex feeling you want.
Ultimate Pleasure: This adult automatic massager can effectively help exercise the penis. Put your penis in it, your glans will feel strong pleasure and stimulate to prolong ejaculation, enlarge penis and increase stamina. Fill the soft, smooth and lifelike interior with your erect penis as you masturbate and enjoy the added benefits of orgasm. Use lubricant to enjoy the toy with ease is a good choice.
Simulated 3D Silicone Sleeve: This massager has a wide opening for easy insertion. The 3D realistic texture sleeve is ergonomically designed to fully wrap your penis, while the protrusions and screws on the inner wall add friction to your masturbation experience, bringing you an experience similar to vaginal tightening.
Detachable and Easy to Clean: This male self-sucking toy can be easily placed on the bedside table or any other place in the house or carried when traveling. The parts are detachable, easy to clean and keep the product hygienic. The shell is sturdy, firm and durable, and anti-fall; the cases are made of liquid silicone, which is flexible and smooth, skin-friendly and comfortable, safe and odorless.
【USB Rechargeable & Discreet Packaging】Upgraded magnetic charging makes charging easier and doesn't require frequent battery replacement. It will be packaged in a standard Amazon box which is discreet, private and will not reveal your privacy. If you have any questions about our products, please feel free to contact us. We offer 24×7 enthusiastic and professional customer service.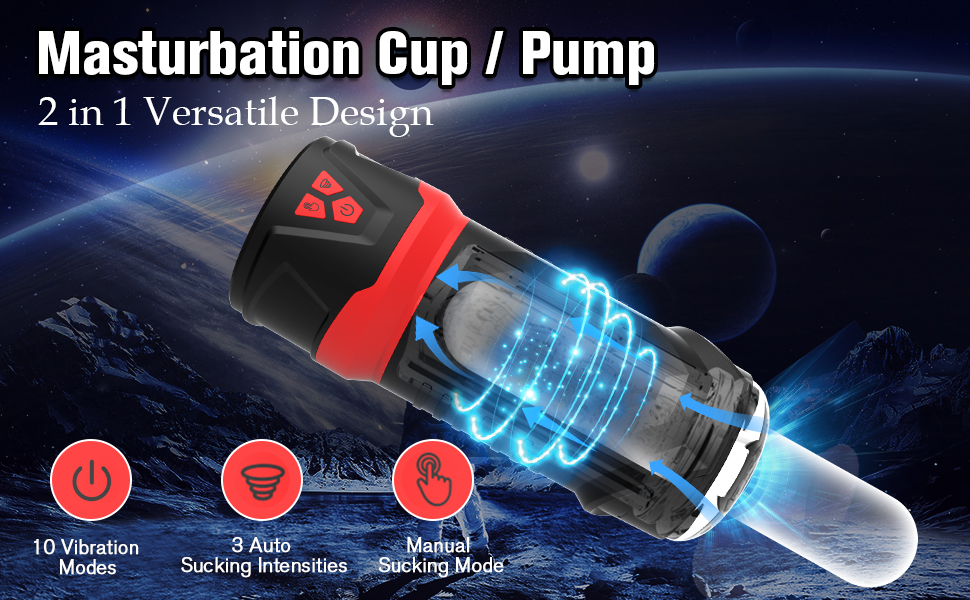 2 in 1 Masturbator
Choosing a masturbator that suits you is similar to choosing a quality partner for yourself.
Superior Appearance: The exterior design is particularly fashionable. The combination of classic red and black makes it look low-key and luxurious. It is like a high-end water bottle, it will not be noticeable on the table, it looks like a chic decoration.
Attractive Functions: Powerful vibration and suction envelop your body, just like a sexy beauty, she is constantly teasing you with her plump lips. The silicone masturbator massages and stimulates you through its internal 3D texture, and when you are about to finish, you are almost sucked out.
Favorable partner: It is not only a masturbation device that can bring you happiness, but also an axis training device. If you choose this product, you will not only feel satisfied, but also improve your endurance and skills. Under vacuum conditions in suction mode, your shaft will become longer, while being stiffer and stronger.
Enjoy a unique sex lesson with the help of this training device!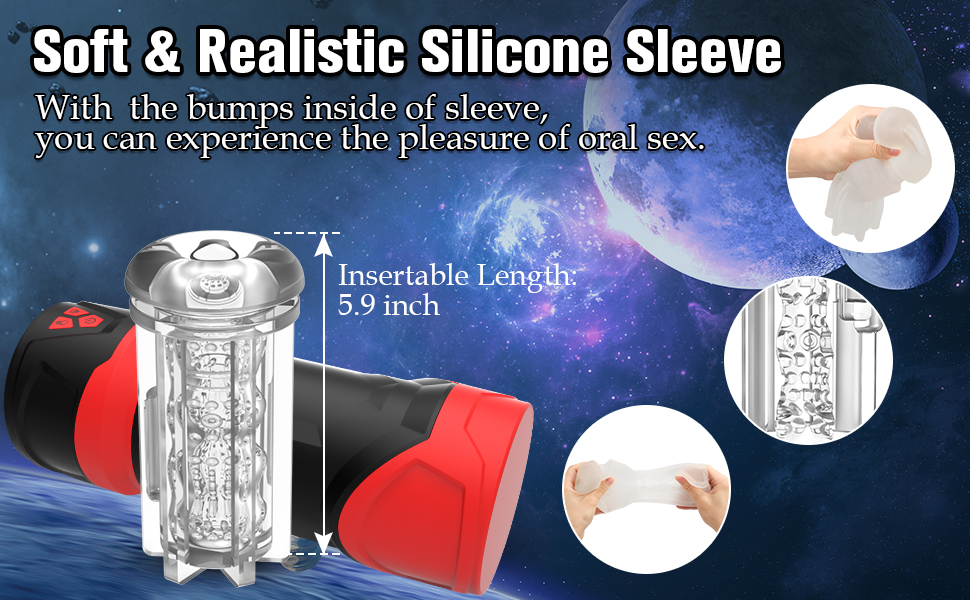 Companion-like sucking
This adult toy uses the vacuum principle to simulate the pressure of the real vagino, so that the entire inner wall is tightly wrapped on the shaft. With a powerful motor, soft silicone and internal 3D texture, the pleasure device creates a wonderful rolling massage, making the glans and the upper part of the shaft pleasant. Just like your partner's skilled mouth. The device inhales deeply and exhales slowly, simulating the feeling of squeezing your stuff against her deep throat.
Because it uses odorless liquid silica gel, you don't have to worry about safety at all. It meets medical and health standards so can be washed and used repeatedly. There are various small protrusions and threads on the inside of the sleeve, which will add friction to your shaft.
The insertable size is 5.9 inches and the diameter can be stretched to fit most men. The automatic vibration simulator has a vent that can lick and swallow tightly around your axis 360 degrees. It must be a qualified partner, with unique features that will be more proficient than your true partner.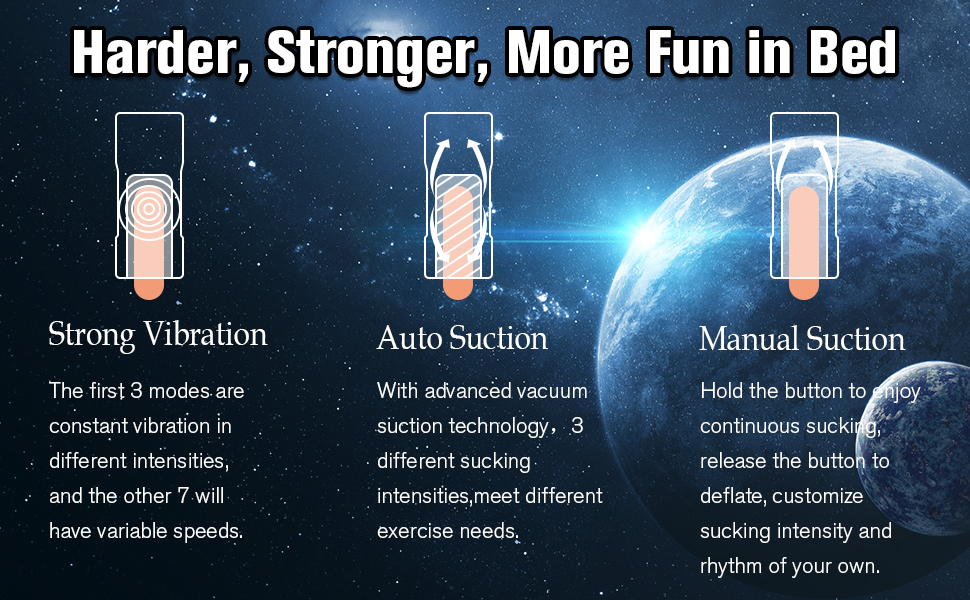 Ten Vibration Modes + Three Kinds of Automatic Sucking + Manual Super Sucking = Unforgettable Experience
Vibration– Hold power button to turn on the device, and click the power button to switch between 10 different vibration modes.
From gentle to wild, gradually let the pleasure invade your mind.
Automatic suction-After turning on the machine, click the automatic suction button to switch between three different suction frequencies.
A sufficient level of stress can free your hands, continue to suck, and entice your shaft to want more and more stimulation.
Manual Suction-After power it on, hold the Manual suction button still, it will keep sucking when you keep holding this button, and will deflate when you release the button.
You can manually set the suction function and strengthen it according to your own wishes. The more intense the stimulation and the longer the training time of the axis, the more satisfied you will be.