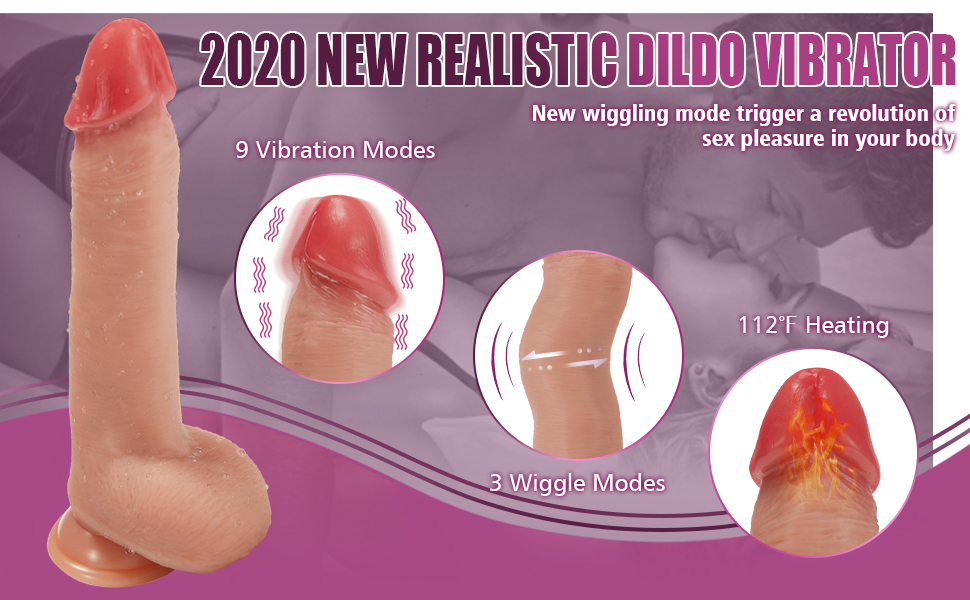 Features:
Lifelike appearance, real visual experience.
Unique 3 wiggle modes you never felt, bring you new sexual pleasure.
9-frequency vibration, enjoy the diverse happiness produced by different combinations.
Built-in heating element, 112°F helps you get rid of the cold.
Can be remotely controlled,fresh sexual taste.
Equipped with suction cup, fix it on any smooth and flat surface.
Edible silicone, non-sticky, odor-less and harmless.
Description:
We hope that every woman can embrace the most enjoyable and complete sex even when she is alone, and this sex toy with new powerful motor will find your deepest sweet spot, lick and kiss it until you reach the peak of happiness. The new wiggle mode is different from rotating and telescoping, it saves you from monotonous G spot stimulation and impact, so that the vaginal inner wall that is usually ignored can also be fully stimulated and massaged. The distinctive glans has a protruding crown, which will gently rub your vagina while thrusting, and the heating temperature of the glans can reach 112°F, like a ball of fire wandering in your body. let it dance in your rain! Sit up and swing your waist as you like, master the rhythm as you want. You can feel his hot glans rubs your clitoris, and soon, you're melting. His High-spirited glans separates your sexy labia, full balls hits your pussy. You will spin out of control and be immersed in his perfect sex skills! If you are eager to spend a unforgettable night with a strong, handsome and charismatic man, he will be your best choice. With a remoteand a powerful suction cup to free your hands, you don't have to hold it all the time. You can indulge in your wonderful fantasy freely!
Specification:
Product size:8.6× 1.55"
Insertable length: 6.1"
Girth: 4.92″
Weight: 0.97 lb
Material: silicone
Package included:
1 xdildo
1 xcharging cable
1 xremote