4 automatische Schub-Modi + 4 Schubgeschwindigkeit: Dieses männliche Masturbation Adult Sexspielzeug hat einen leistungsstarken Motor. Starker und hochintensiver Schub, der kraftvoll stimuliert. Genießen Sie den donnerähnlichen Schub Vielleicht zu intensiv für einige sein, aber mit einer Vielzahl von Modi und Geschwindigkeiten für Sie zur Auswahl, für Anfänger und Fortgeschrittene, können Sie immer den finden, der Ihnen gehört. Stellen Sie sicher, dass Sie genug Gleitmittel auf Wasserbasis verwenden, um Dinge einfacher zu machen. Inklusive Gleitmittel ist ein toller Bonus.

Volles TPE-Material & Realistischer 3D-Kanal: Die Silikon-Hülle im Inneren des elektrischen Massagegeräts ist aus TPE-Material, ungiftig, geruchlos, hypoallergen und sicher für den menschlichen Körper. Mit speziellen konkaven und konvexen Partikeln und mehrlagigen gefalteten Spiralen. Die realistischen 3D-Kanäle imitieren die Vagina und stimulieren jeden Nerven, schaffen ein realistischeres Gefühl für Sie und geben Ihnen eine wunderbare Erfahrung.

Typ-C Aufladung & Tech-ähnliche Form: Diese Sexmaschine verwendet USB-C-Aufladung, wodurch es einfach ist, einen Ersatz für das Ladekabel zu finden, wohin Sie gehen. Es dauert nur 90 Minuten zum Aufladen und etwa 150 Minuten zu verwenden. Der männliche Stroker hat eine technisch ähnliche Form, reinweißes Design. Schlicht und elegant, sieht aus wie ein intelligenter Lautsprecher. Es ist sogar schwer, es als Erwachsenen-Sexspielzeug zu identifizieren.

Abnehmbar und leicht zu reinigen: Die Hülle ist durch magnetische Saugkraft verbunden und kann entfernt werden. Das ganze Masturbator Sexspielzeug ist nicht wasserdicht. Drehen Sie zuerst die Hülse, um den Bajonett zu lösen und dann ein wenig Aufwand zu entfernen. Nach dem Entfernen der Hülle mit Wasser abspülen. Dieses geteilte Design erleichtert das Reinigen und Trocknen, ohne sich Gedanken über die Bakterienzucht machen zu müssen. Die Schale ist robust, fest geformt, robust und langlebig und fällt nicht ab.

Diskrete Verpackung: Die elektrische Taschenmuschi wird mit einer diskreten Verpackung geliefert, um den peinlichen Moment zu vermeiden, wenn Sie den Artikel erhalten. Ihre Privatsphäre ist sicher! Außerdem hat der Artikel eine 12-monatige Garantie. Wenn Sie irgendein Problem über unser Produkt haben, kontaktieren Sie uns bitte jederzeit, 24 Stunden netter und professioneller Service ist für Sie da!
Our internal code name for this adult sex toy is "Gentleman". Designed in pure white for a technological look. Make it look more like a smart device. It's as handsome and understated as a gentleman, but when you actually use it, you'll find you're mesmerized by its looks! Beneath the delicate exterior of a masturbation cup is a beast that will drive you crazy at night!
Revolutionize your pleasure time with this electric masturbator cup that pushes you over the edge with better than just use your hand. Lube up, and dive into pleasure, savoring sensual life-like strokes in 4 thrust modes, bring you the "O" like a volcano eruption.
The ultra-soft textured tunnel made of skin-like TPE features a fantastic texture, which perfectly simulates a soft and tight vag-ina with proper elasticity. It swallow and sucks your c0ck in various ways. Please enjoy the continuous slippery thrusting and release the deepest pleasure!
The quality 3D threaded channel is like a woman and gives you an extremely comfortable experience. Pleasure device really makes your hands free, you just stick your c0ck in the masturbator and wait until it's all over! This product is certainly the best experience ever!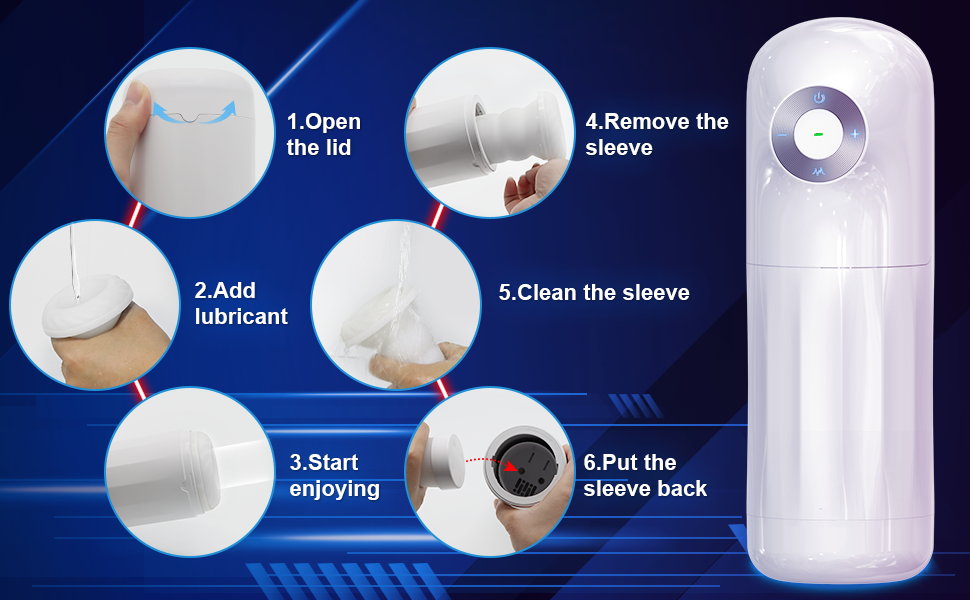 Easy to Clean and Assemble
How to clean
1.Do not use water to clean the whole product directly, just take off the sleeve for cleaning
2.Turn the sleeve counterclockwise to unlock and pull out. (Magnetic construction, need a little effort to pull it out)
3.Use water to clean the sleeve
4.After cleaning, wipe the sleeve dry with a towel
5.Align the snap position, put the sleeve back on the cup, rotate the sleeve clockwise to lock
6.Keep refrigerated until next use