🔥 【8 Intense Vibration Frequencies】This male masturbator has a strong motor that achieves 8 different auto vibration frequencies from weak to strong. Combined with a 3D silicone channel that has perfect depth, the vibrations will precisely stimulate the sensitive parts of your glans as well as your shaft, which will always be thightly wrapped. If you like different patterns, it will also satisfy your needs. Since it's not just speed that changes.

🔥 【4 Different Clamp Suction Modes】With a powerful automatic vacuum sucking pump, this cock stroker also creates 4 intensities of suction, accompanied by clamp motion. With each contraction and expansion, the cup repeatedly squeezes to massage your penis. This sex toy wraps, sucks and stimulates your dick to make you a realistic feeling. If clicking vibration button at the time, the experience of using one tool and enjoying the stimulation of 3 functions combined can be true.

🔥【Realistic 3D Textured Channel】 The channel of this massager is made of premium silicone, flexible, stretchable. There are many particles and tongue-like sections inside. When clicking the vibration button, they will vibrate and rub your penis. At the bottom, there is a round ball ready for stimulating your glans.

🔥 【Safe Material & Removable for Easy Cleaning】 This masturbation pump isn't completely waterproof. But due to its design, you can easily dismantle it for cleaning in just two steps. The sleeve is made of smooth silicone, soft and sleek, skin-friendly and comfortable. Its shell is made of TPE, which is strong and durable.

🔥【Discreet Package & Type-C Charging】 It uses Type-C charging, which makes it easy for you to get a replacement for the charging cable. We respect your privacy so our sex toys are packaged in simple packaging and shipped in standard brown boxes. All of our products come with a one year warranty. Any problems with them, please contact us directtly.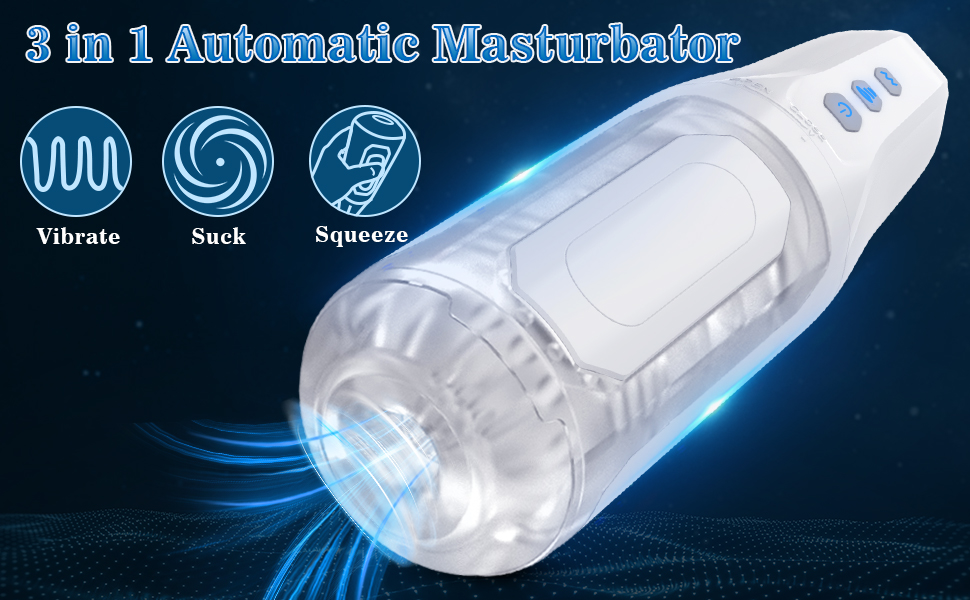 Upgrade 3-in-1 Automatic Male Masturbator
Multiple Vibration Modes: This adult toy offers 8 intense vibrational frequencies, each of which creates a different feeling.
Strong Clamp Suction: Only vibration is not enough to enjoy? This massager knows what you want! Just start the sucking pattern, then select one of the four suction clamping modes to stroke repeatedly with vibrating or alone!
3D Simulation Channel: After you put your shaft into this pen-is pump, it will be 360° fully wrapped! Simulated particles, tongues, and small round balls, all ready to give you a full range of stimulation!
Premium Silicone, Selected Materials: Body-safe silicone combined with TPE/ABS, your brother can enjoy soft wrapping, as well as a forceful clip, even in the suck.
Type-C Rechargeable: Simple & convenient charging create a long-term playmate. About 90 minutes of charging brings around 55-mins enjoyment. The charging cable is included inside the package.
Detachable, Easy to Clean: With simple disassembly, thoughtful materials, and careful design, it is a breeze to clean the masturbator with warm soapy water.
Exquisite Appearance: Add a wonderful visual feast to your sweet time due to the sophisticated design! And with the thoughtful design, you can hold it more easily.
Individual Buttons:The cute adult machine has many different modes, which are controlled by different buttons, offerring you the freedom to choose the combination you like best and that suits you best.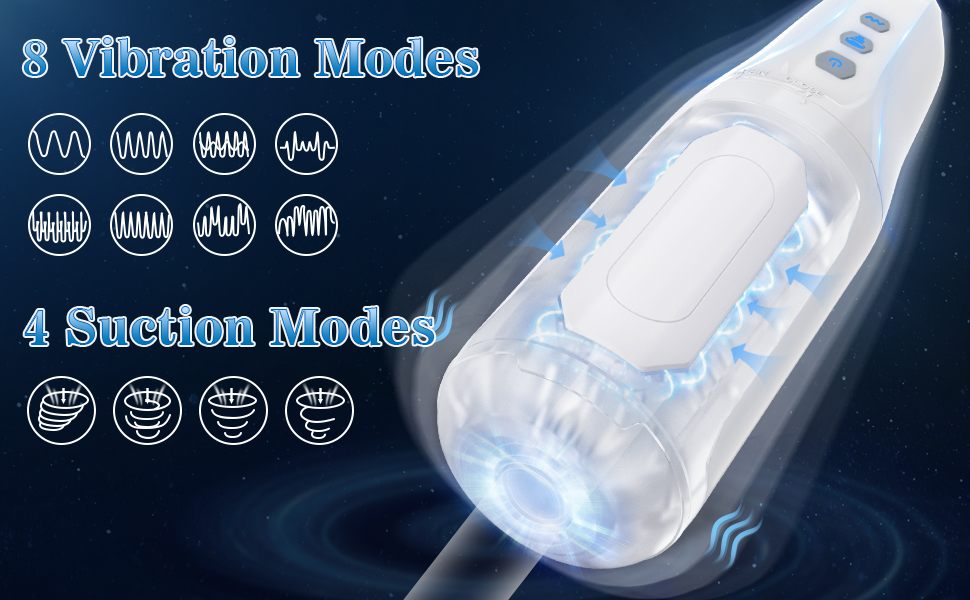 8 Powerful Vibration and 4 Intense Suction for Your Needs
There are 8 different vibration settings for you to choose from with this male masturbator. If you like constant vibration, the first 3 modes give you 3 different vibrating speeds. If you like more fancy, the other 5 multi-band inverter vibration patterns will meet your needs.
In addition to multiple vibrations, this masturbator also has 4 types of sucking for you, accompanied by clamps. When the sucking starts, the cup will clamp down on your co*ck in different degrees. It is recommended to get to know them before using this model and also choose the one that suits you best.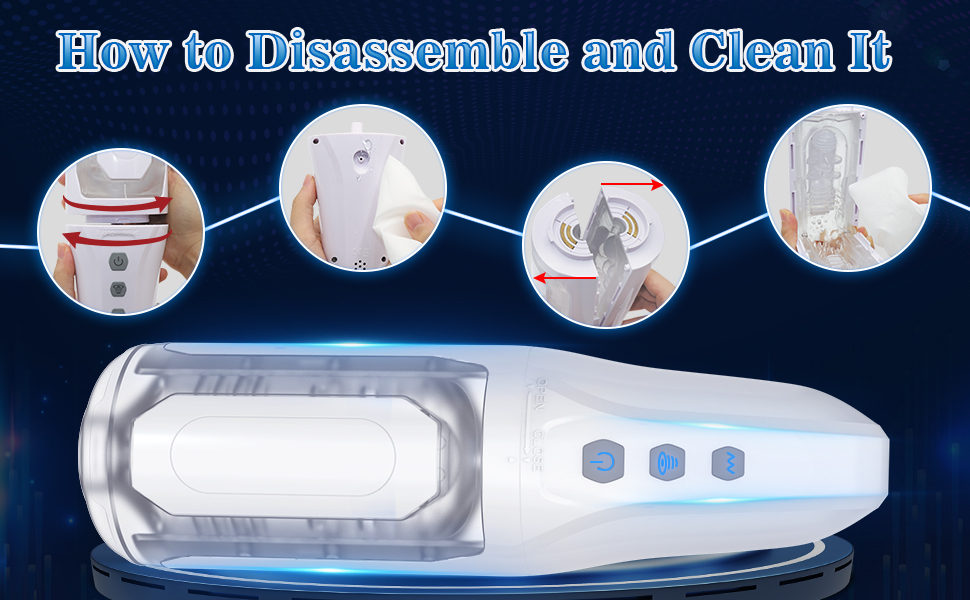 How to Clean it?
1. Rotate the cup and base to separate.
2. Continue to suck so that the residual liquid is discharged from the drain, and then wipe the base with a clean towel. (Note that the base isn't waterproof)
3. Use some force to open the sleeve for cleaning. (Be careful not to tear the silicone mouth of the sleeve because of excessive force)
4. Wash and then dry with a towel.
5. Assemble this massager and put it away for the next use.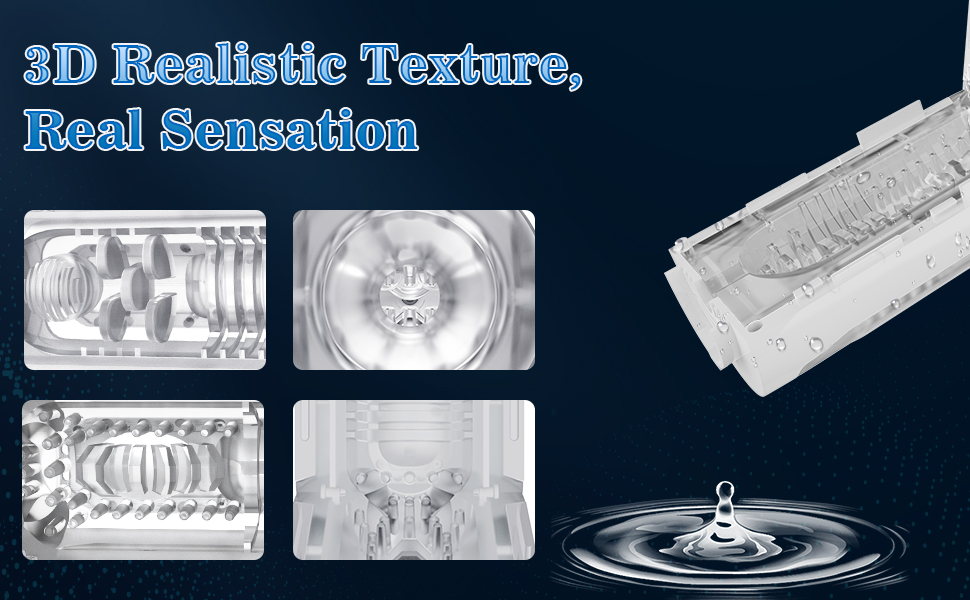 3D Texture, Simulated Particles for More Comprehensive Stimulation
When you put your di*ck into the sleeve, you'll feel it is being hooped by an elastic silicone ring. Inside the sleeve, there are a variety of shapes of 3D particles ready for you. When you turn on the vibrate button, they start to work, to rub, to stimulate. In addition, there is a small ball at the bottom of the sleeve, which will give a combined massage with the tongue-shaped pieces.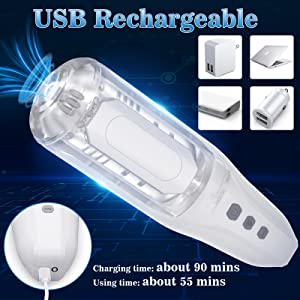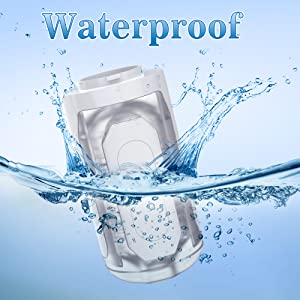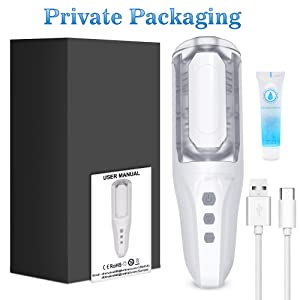 Quick and Convenient Charging

Type-C charging makes it easy to recharge this Adult Desire Satisfier. The connection is stable in this charging method and it charges quickly. It only takes about 90 minutes then you can have a powerful companion again.

Waterproof

You can remove the cup and clean it with warm soapy water. The base of this stroker is not washable. Please do not soak or clean it with water.

Private Packaging

Each of our toys arrives with a private package. Your item is delivered in a standard cardboard box with no pertinent info on it. You don't need to worry that people will know what you're buying.