❤【Classic 2-in-1】Masturbation & Effective Training】— This male sex toy has two powerful functions. It can be used to add fun and excitement to sex or self-pleasure, or it can be used as a penis trainer! You can put it on your penis and let your partner lick and suck your glans, which not only stimulates the penis but also increases the visual pleasure! With the lid on, this penis vibrator wraps your glans better, rubbing and vibrating your sensitive areas.
❤【Manual Press & Silicone Material】— Teach sexually inexperienced couples how to transfer. The soft outer shell and inner lining of this penis vibrator allow it to be squeezed with your hand and it's entirely up to you or your partner whether it's comfortable or not. A sex experience completely in your control. If you feel the stimulation isn't enough, push harder. If too strong, relax a little. It's very simple and human. The soft silicone material is safe and healthy.
❤【Dual Powerful Motors & 6 Vibration Modes】 — Two independent motors, the vibration is stronger. The newly upgraded vibrating masturbator cup has two powerful motors, and 6 optional vibration modes also make the sex process possible. You can feel the different vibrations from weak to strong, then choose the mode you like to enrich the sexual process.
❤【Spherical Design & All-Round Packing】— The unique and novelty round design is small and easy to hold, yet powerful, offers more opportunities to play. The thick and soft lining envelops your penis and glans, even softer and more comfortable than your partner's mouth. The texture on the shell increases friction, and it won't slip out of your hand easily when you use it. A brand new penis vibrator is waiting for you to try.
❤【USB Charging & Neutral Packing & Easy to Clean】— Magnetic USB charging, convenient and fast. Magnetic charging is easy to fall off, please make sure charging has started. Black neutral packaging with no sensitive information. Protect your personal privacy. The penis vibrator is easy to disassemble, so cleaning is easy. Please note that the case containing the motor is not waterproof, please remove the case for cleaning.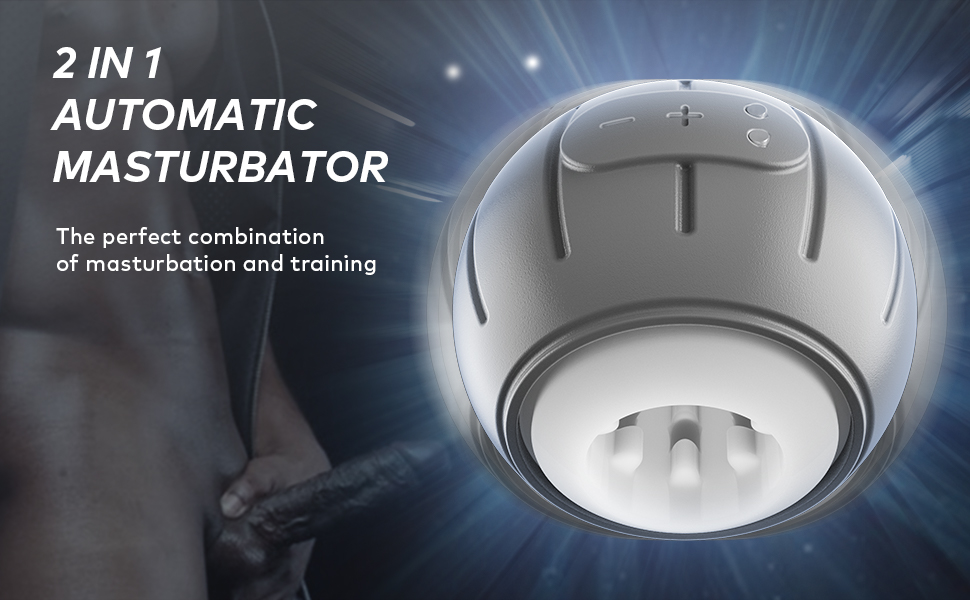 BREAK THE USUAL
A new generation of male toys !!
It can be used as a automatic masturbator cup, in addition, it also has excellent performance as a male p-enis trainer.
The special spherical shape hides a soft inner liner, which can perfectly wrap your p-enis and rub it up and down, bringing you a new masturbation experience.

Under the strong vibration, the toy continuously massages the glans and p-enis, and the long-term training can reduce the sensitivity of your c-ock to a certain extent, giving you and your lover a healthier and lasting sex.

2 in 1 Perfect Combination

Stronger, Longer Lasting

The absolute king of cost performance, it perfectly combines electric masturbation cup and p-enis vibrator, covering a variety of popular functions.

Pre-training your p-enis with this sex toy to make it stronger. This will be the best gift for you and your lover.

6 Vibrations modes

Material: Silicone

Size (diameter): 3.8inch

Insertable diameter: 1.45inch

USB CHARGING

This male masturbator is easy to charge by USB, in a variety of ways, the magnetic interface is more convenient and fast.

Neutral packing

On time delivery

POWER UPGRADE

Two powerful motors, 6 vibration modes with different speeds and styles will enrich your solo-play !

With the addition of lubricating fluid, your p-enis is smoothly inserted into this male masturbator cup. As the vibration is turned on, the rhythm from slow to fast will let you gradually get better, until you find the mode that suits your rhythm best. Unleash your inner longing !